If you would like to add an event to our events list please click here to contact us with the details.
URHP Conference June 2017
It was a warm and pleasant Friday afternoon when we arrived at the beautifully appointed Purley Chase for another weekend of delights, surprises and rich, valuable learning as well as highly valuable connections with our herbal colleagues.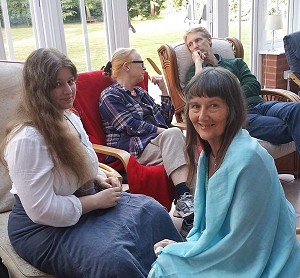 After initial greetings alongside sampling scrumptious treats with our welcoming drinks, we all settled ourselves in to this charming place of peace and calm, readying ourselves for a stepping off from the usual hectic pace of life to a rather more gentle and reflective space. This is the gift of coming away for a weekend conference together in such tranquil surroundings. Stopping to take stock of all we have achieved and all we want to focus our energies on in our herbal world is essential if we are to move forward effectively and this is what we achieved.

Our first exploration into deepening our knowledge began after an early dinner. It was led by our very own Judy Evans, who is a naturopathic Herbalist, talking to us about natural ways of treating the menopause. Judy used her own experience of previously very difficult monthly cycles to demonstrate how effective natural approaches can be. In the past, she had gathered huge amounts of research in order to help herself and came upon the work of John Lee MD and his insights and treatments using natural progesterone backed by many years of clinical research. We all took in this information (as easily as this remarkable cream is absorbed into our skin!) with great interest and, for me, it certainly highlighted an area that I would want to develop in my practise.

Judy covered as much as she could in the time allotted and gave us a great overview of the various ways that we can all approach this rather challenging time of life with our clients. It has to be said, some of us of a certain age, were already on the website ordering the natural progesterone cream before we went to bed!



The next day dawned bright and we all had great expectations of the forthcoming day. We were not disappointed! What a fabulous day we had with not only a fascinating and moving narrative but also lively discussion with plenty of laughter. Our speaker for the day was Dame Commander Annette Montague-Thomas. For those of you who have not been fortunate enough to have met her, Annette is one in a million: she brought energy and passion to all she spoke about, enlightening us with her own particular story and in doing so, motivating us all to follow our own herbal paths with courage and determination.

Annette is founder of The Global Natural Healthcare Trust Charity and she took us on her journey from early work with UNICEF in Africa to how she came to set up her own charity in 2000. This all began with Annette seeing a documentary about the HIV/ AIDS pandemic and how this was devastating townships in South Africa. She was so moved that with her innate steely determination, she flew out to Africa with a vision and a mission in her head and her heart, not entirely sure where she would begin, but knowing that she must, at least, try. There aren't many who would have fought in the way Annette did and still does, against such odds and brought into being an exceptional medical centre with a team treating many people each day; a farm where all the herbs used are grown; a children's hospice; a children's unit (The Cuddle Centre) and an adult respite centre. All this has come about from one woman working tirelessly: finding solutions, being proactive, engaging others, collaborating with funding agencies while using her skills as a herbalist to achieve her goals.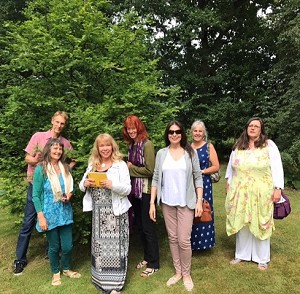 We all, I think, sat in the lecture room that day, silenced at times with awe that such an undertaking had been achieved. Annette has such a gift of storytelling and delighted us with anecdotes that literally had us howling with laughter. She was also open to questions and discussion as her story unfolded, which gave a beautiful flow to the day. In the latter part of the afternoon, we focused on the devastation that Lyme's disease can have on people's lives with Annette giving us the benefit of her own experience in meeting and treating a young girl with this illness. This was an opportunity as well, for those who also had knowledge and involvement in dealing with Lyme's, to share this with the rest of the group. There was much to communicate on this subject and we closed the session with renewed interest and new ideas about how to approach such an overwhelming disease.

This had been a day packed with creative energy. We had heard a story that stimulated us to move forward in our own professional lives and left us with a feeling that with the right combination of vision and action, anything could be achieved. We also had an insight into the incredible power of herbs and how they had brought their own particular healing to this community when in the hands of a skilled practitioner.

After such a highly charged day, we were very happy to tuck into the usual delicious supper and those who still had the energy partook of an evening of singing, music and conversation, entertained by the talent within our own membership.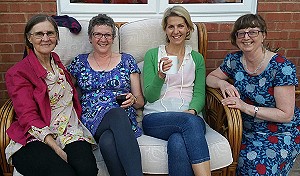 The Sunday morning was dedicated to the AGM, reports from the council and further discussion of topics raised the previous day. There was a lot of positive energy amongst us, as we planned the next few months and how we would engage more with our local communities, as well as tackling political issues in the wider world of herbalism. It must be said that there was much beneficial collaboration between us all and we came out of the morning with a real feeling of moving forwards and working together for both the URHP and our precious plants, which after all, deserve much gratitude for the gifts they bestow on us as medical herbalists.

Our nurturing weekend was rounded off for those who were able to stay, with a magnificent herb walk led by Barbara Wilkinson, who has the true ability to let the joy of each herb shine through with her narrative and deep understanding of the plant kingdom.

This was a hugely successful conference, where, with our ability to stop, reflect and plan, we were able to, not only enjoy the compelling content our speakers laid before us, but also to step forward with new creative ideas and plans for ourselves and our professional association.

Laura Yarham
URHP Herbal Gathering - 6th to 8th July 2018
'Sharing our wisdom and knowledge'
A conference for qualifed herbalists and herbal students
at The Purley Chase Centre, Atherstone, CV9 2RQ
This years URHP Conference is a dynamic weekend of workshops, talks, walks, market and discussion groups. As a knowledge exchange, this is an opportunity to learn from the wealth of experience of other herbalists as well as letting others gain from your own ideas and understanding. Together with a set programme, there will be open space for spontaneous discussion and skill sharing. Come for 1 or 2 days or the whole weekend!

Stands and talks from:

Avicenna (Joe Nasr)
Herbal Apothecary (Hugo Fearnley)
Riohealth (Rose Holmes)
Teaching Sessions with:

URHP experts
Plant Spirit Medicine
Click here to download the event flyer
Download the conference programme

The event can be booked via this link:
https://www.eventbrite.co.uk/e/urhp-herbal-gathering-tickets-42309638267