Book Reviews
A Working Herbal Dispensary: Respecting Herbs as Individuals by Lucy Jones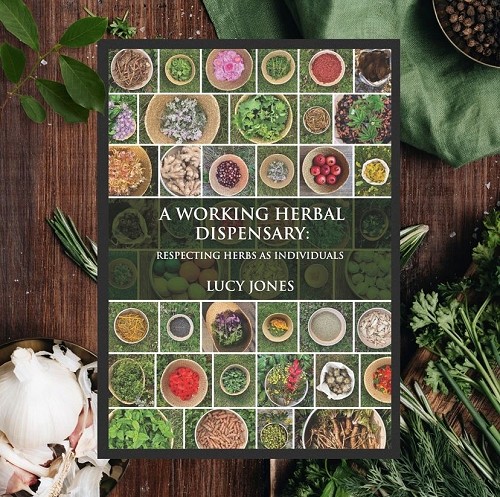 A beautifully illustrated guide on how to understand and engage with medicinal herbs.
In her fascinating second book, full time medical herbalist Lucy Jones shares the characters and medicinal virtues of 108 herbs that she works with in her practice. Each herb is written as an individual that she knows and respects, rather than simply a list of conditions it treats or the constituents it contains.
Guided by Lucy's engaging and thoughtful prose, readers will journey through the physiological actions, energetic qualities, and emotional resonances of individual herbs, as well as qualities according to Tibetan Medicine, where they apply. Also included are historical views, magical associations, recipes for the home apothecary and many informal case studies to illustrate the virtues of the herbs.
Beautifully illustrated with colour photographs throughout, A Working Herbal Dispensary is more than your run of the mill herbal; it is an insight into a holistic practice where herbs and herbalist are working in partnership for the benefit of those that need help.
"The book is a rare gem, as it is not just re-writing every other herb book but comes from the heart of a busy practitioner who uses herbs clinically every day. Lucy doesn't just 'use' the herbs to 'fix what's broken', rather she understands how they holistically heal the whole person. These monographs are not just short paragraphs of what conditions the plants are 'good for', but a top-notch interweaving of tradition and experience that capture the medicinal essence of the plants. 'The binding of this book is going to become well-worn over the years."
Sajah Popham, founder of 'The School of Evolutionary Herbalism'
"Another wonderful herbal from Lucy, rich in ancient lore and insights from the Tibetan tradition brilliantly interwoven with wisdom, experience, and practical tips from a working herbalist and a self-sufficient one too! With fascinating and detailed descriptions of over one hundred herbs, enlivened by photos of herbs lovingly grown and foraged by Lucy, this book is testimony to the living tradition of herbalism in England and a great opportunity to learn how a clinical herbalist implements the tools of their trade. Thank you, Lucy!"
Anne McIntyre, medical herbalist (FNIMH) and author of 'The Complete Herbal Tutor' and 'Healing with Flowers'
"This work will undoubtedly go on to become canon in the arena of herbal medicine. It does not just provide information, with Lucy's deep understanding and long clinical practice, it's also experiential.  A Working Herbal Dispensary takes us on a journey into the plant kingdom; a journey where we experience and really connect with the energies, and magic, we encounter when we work with healing plants."
Karen Stone, founder of the Arura Healing Centre and practitioner of Traditional Tibetan Medicine
A Working Herbal Dispensary is published by Aeon Books, and will be available from the end of May 2023.
Vicki Pitman's Aromatherapy book is now published!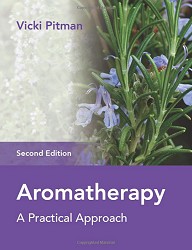 Aromatherapy - A Practical Approach (Second Edition) - Vicki Pitman
From the back cover: "This comprehensive guide to aromatherapy provides thorough coverage for students and is also an excellent reference for practitioners. It includes all the information required by students training on aromatherapy courses accredited to Levels 3 or 4."

If you'd like a copy, click here to buy from Amazon (or you can order one from an independent bookshop).

Lucy Jones has had her book published: 'Self Sufficient Herbalism'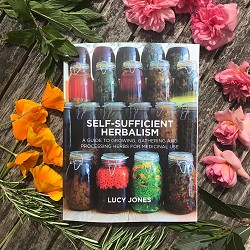 Self Sufficient Herbalism is the first ever practical guide to the growing, gathering, and preserving of medicinal herbs for a working dispensary. Written by a practising herbalist with a high street clinic, it covers everything you need to know to become truly self sufficient in creating and dispensing your own herbal medicine.

Relying on only a small allotment and access to the fields and woodlands of rural England, Lucy Jones provides a masterclass in the wild crafting, growing, harvesting, drying, storage, and processing of medicinal herbs. Her passion for the plants and traditional ways of preserving them for medicine shines through as she explores the deeper implications of self-sufficiency and the transformative impact it has had on her practice.

The guide includes a glossary of detailed notes on the cultivation, harvesting, and processing of 108 individual herbs arranged by the seasons. It is a must read for practising herbalists, herbal students, herb gardeners, and all those who love herbs.
The Western Herbal Tradition - Graeme Tobyn, Alison Denham, Margaret Whitelegg: A Book Review by John E Smith F:URHP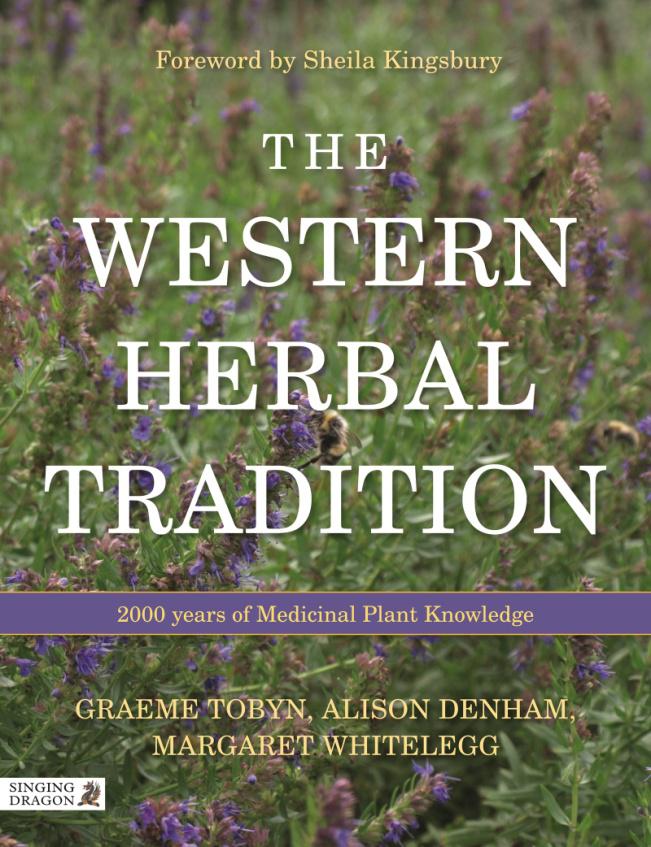 We live in a time when (and I quote from the above text) "the treatment of illness over the health and well-being of the whole person has come to dominate society" so a reminder of our traditional herbal heritage is timely.
This great text draws from the work of herbal luminaries over a 2,000 year period from the time of Dioscorides to the modern day, and introduces the reader to not only "evidence based" herbal medicine ( which tends to refer more to laboratory based or "scientifically validated" results) but also knowledge derived from centuries of traditional usage.
The authors discuss the phytochemistry of the plants, with many scientific references and modern applications; devote space to the work of a host of authorities including Pliny, Ibn Sina and other more classical scholars and current practitioners such as Matthew Wood and Kerry Bone.
We learn that not only is Vervain a relaxing tonic but was also used by the Romans to purify sacred places, especially temples and altars dedicated to Jupiter. We are also informed that Artemesia absinthum is not merely a good bitter tonic to improve digestion, but was also traditionally taken with wine re hemlock poisoning, "shrew bites" and "the stinging of spiders and other venomous beasts".
The bulk of the text is taken up with very detailed monographs of 27 commonly used western herbs, these monographs are beautifully illustrated with both photographs and pen and wash paintings making this a useful reference book for practitioners of herbal medicine.
The Western Herbal Tradition was published in February 2016 by Singing Dragon and is priced at £35.
The Yellow Monkey Emperor's CLASSIC of CHINESE MEDICINE: A Book Review by John E Smith F:URHP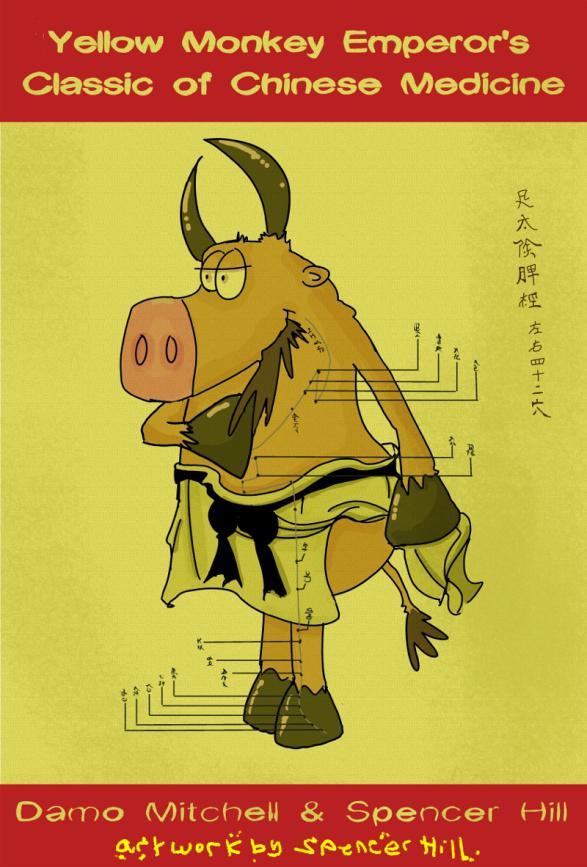 Probably my favourite novel of all time and one which undoubtedly inspired my interest in all things oriental (back in the sixties) was
"Monkey"
or "Journey to the West" by Wu Cheng'en. Monkey (published in 1592) is considered to be one of the Four Classic Novels of Chinese Literature. It tells the story of a monk's journey to bring a set of Buddhist Scriptures out of China. The monk ,Tripitaka, is accompanied by a group of unlikely fellow travellers, a wise but mischievous monkey, 8 Precepts Pig, a White Dragon Horse (a descendent of the Dragon king of the Western Seas) and a river ogre (an immortal skilled in the 18 methods of transformation).
As a TCM practitioner another text which has (of course) inspired me is
"The Yellow Emperor's Classic of Internal Medicine"
(Huangdi Neijing – approx 250 B.C.). This is largely a discourse between the Yellow Emperor (Huangdi) and his acupuncturist/advisor Qi Bo.
Do I digress? No! All will be revealed!


The Yellow Monkey Emperor's Classic of Chinese Medicine
is obviously inspired by both the above classics. It includes a myriad of colourful characters including a pig (boar) a singing dragon, a hoarse (deliberate spelling mistake) and ,of course, a yellow monkey.
It begins (as does the Neijing) with the main characters query:

"Why do people no longer live for more than 100years?"

This question is asked by the Yellow Monkey Emperor when meeting Bee Bo, a wise Bumble Bee, who answers:
"Things were different in ancient times; the animals of the world practised the way of Dao…. In contrast, the youth of today are irresponsible and have stepped away from the natural rhythm of the universe…."
This leads us into an investigation of 78 imbalances in the main Zhang Fu organs, using amusing and colourful cartoon drawings to illustrate what are often difficult syndromes for the average western student to understand such as: "Small Intestine Cold and Deficient "– described in the text as "Banana Cheesecake, Spleen and Stomach Syndrome".
The drawings in this profound "picture book" have been beautifully crafted by Spencer Hill, a long term student of the Daoist Arts. Who co-ordinated on the development of the idea, the text and the concept with Damo Mitchell, the technical Director of the Lotus Nei Gong School of Daoist Arts and the author of several books.

The Yellow Monkey Emperor's Classic of Chinese Medicine
was published this year by Singing Dragon and printed and bound in China