Why Consult a Herbalist?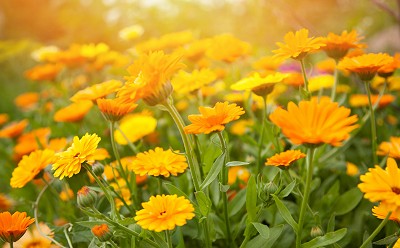 "Herbal Medicine is man's rightful medicine. The powers of herbs cannot be denied. From the days of the early cavemen to the present time when human beings are soaring into space, people have used herbs to promote and safeguard health, and to heal disease." Juliette de Bairacli Levy
Seeing a herbal practitioner has many benefits. It allows time to explore all your health issues while considering your complete medical history. This is a two way relationship where you do not remain passive, but are empowered to take control of your health. Many conditions benefit from the input of herbs and a herbalist. Herbal medicine is not just a substitution of herbs for a modern drug: it is based on a naturopathic, integrated approach to health and the understanding that all bodily systems work in harmony to bring optimum health and well-being on all levels.
A Herbalist treats the whole person, embracing all aspects of an individual: physical, mental, emotional and spiritual. Your practitioner will explore areas of your lifestyle such as diet, and exercise and emotional well-being and make appropriate recommendations.
A consultation with a URHP herbal practitioner gives you both time and space to explore your imbalance thoroughly. They will make a full assessment of you and your condition, focusing on ascertaining the root cause of your illness, rather than just treating and suppressing symptoms. A unique and individual herbal formulation will then be made up for you. The herbal medicine may be in tincture (an extract of herbs made using alcohol), tea or capsule form, and may comprise one or many herbs.
A GP's diagnosis is not necessary before you consult a herbalist, although may be helpful. Your herbal practitioner will make a full assessment of you at your initial appointment whether you come with or without a diagnosis. If indicated, after your consultation, your herbalist may advise you to seek additional help from your GP.
Consulting a qualified herbal practitioner means you have the confidence that they are aware of herb/drug/supplements/food interactions and contra-indications. Thus, the herbal preparation will be specifically and safely formulated for you, additionally taking into account your case history and assessment from the consultation. This is something you do not get when purchasing 'over the counter' herbal preparations. In most cases herbal medicine is safe to take alongside medication, but there are some herbs and drugs that should not be taken together, so it is vital you let your herbal practitioner know what conventional medications you are taking. In the same way, it is good practice to keep your GP fully informed about herbs you are taking, even if they are not trained in the use of herbal medicine.
Herbal medicine as practised by a trained professional has an excellent safety record. URHP members follow procedures which ensure the herbs they use are botanically identified and traceable to source. Consulting a professional herbalist is more beneficial, safer and more cost effective than self medication with over the counter preparations, and an altogether individualised and holistic experience.